A Proprietary World First
AirTumR technology is a proprietary world first.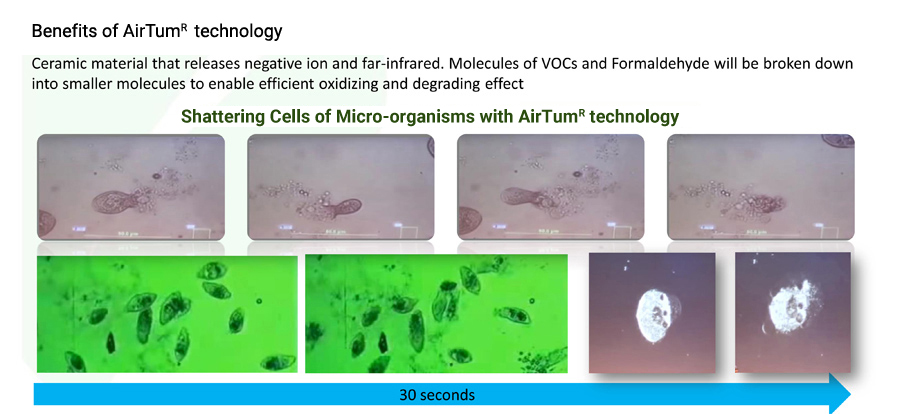 A Bulwark Guard Against Human Coronavirus
As recent as February 2020, AirTumR solution was lab-tested and found to be 99.99% efficient in degrading the human coronavirus OC43 (CoV-OC43) and viral RNA when exposed to direct contact
with the virus, as well as 99.99% efficient in degrading the human enterovirus A71 (EV-A71) and viral
RNA when exposed to direct contact with the virus. Tested and proven to eliminate up to 99.9999%
of bacteria, viruses, mould and fungi, including influenza H1N1 and HFMD. AirTumR removes odour
and harmful gases from new furnitures, too.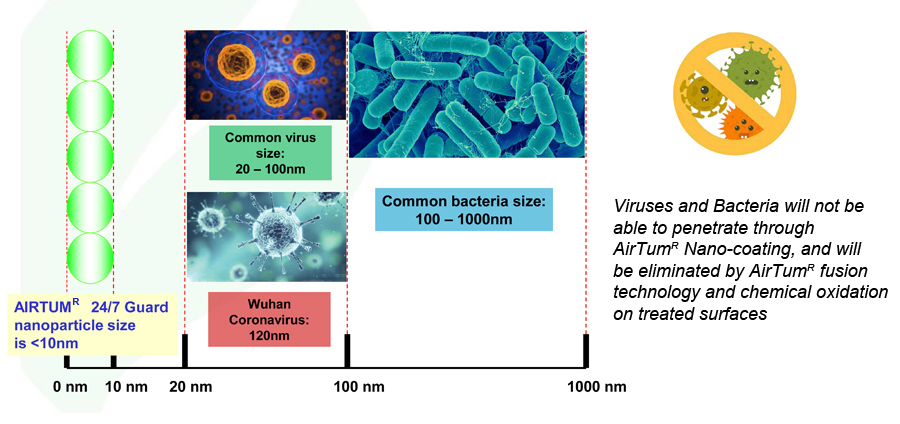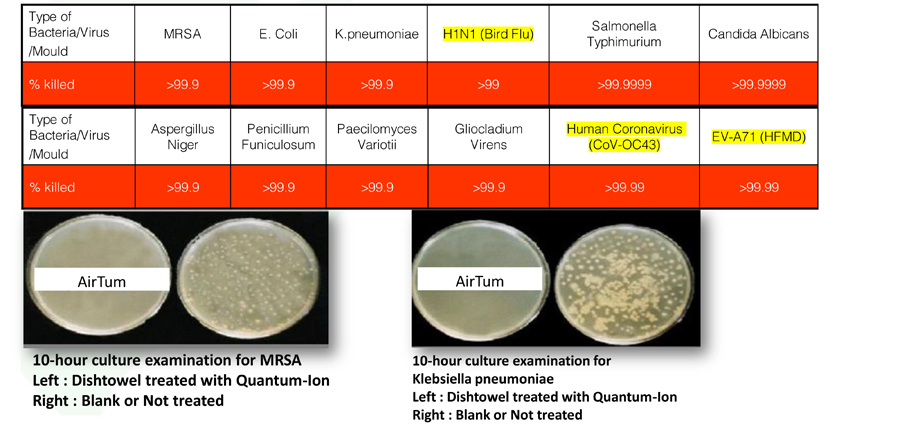 A Protection that Lasts
The AirTumR coating will stay intact for 1 year, even with routine wiping/cleaning of treated surfaces. There is no need for constant cleaning, and especially with disinfectants that might not be efficient enough against viruses.
A Green Product
AirTum
R
has active ingredients which are safe to use. It is also a self-cleaning Green product and therefore reduces the need for usage of harsh chlorine-based disinfectants that emit harmful gases.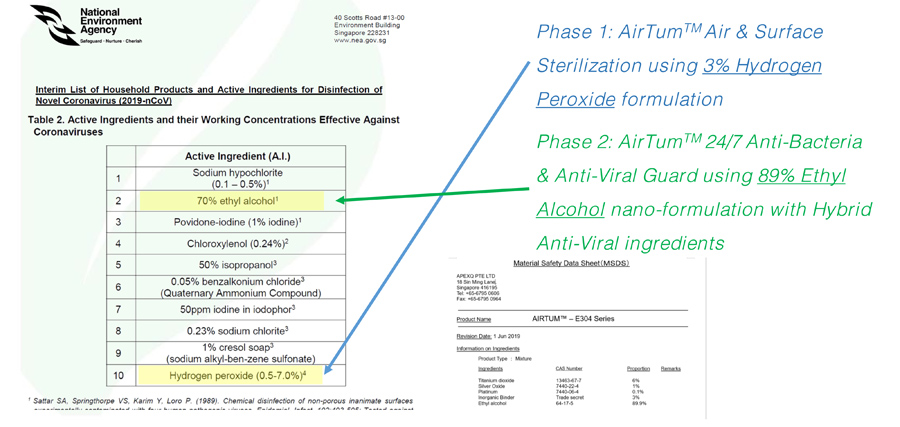 ATP Swab Test Result
(with AirTumR)
Sample 1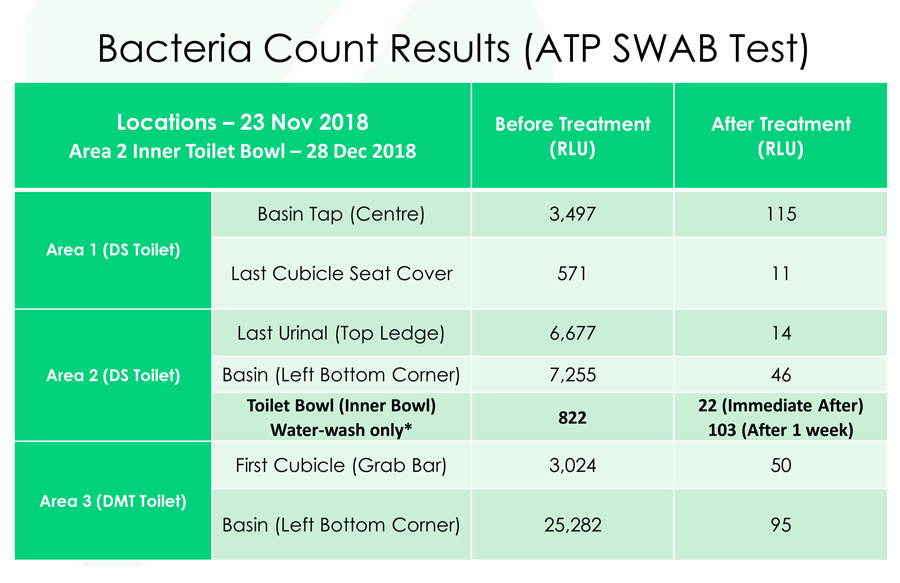 Sample 2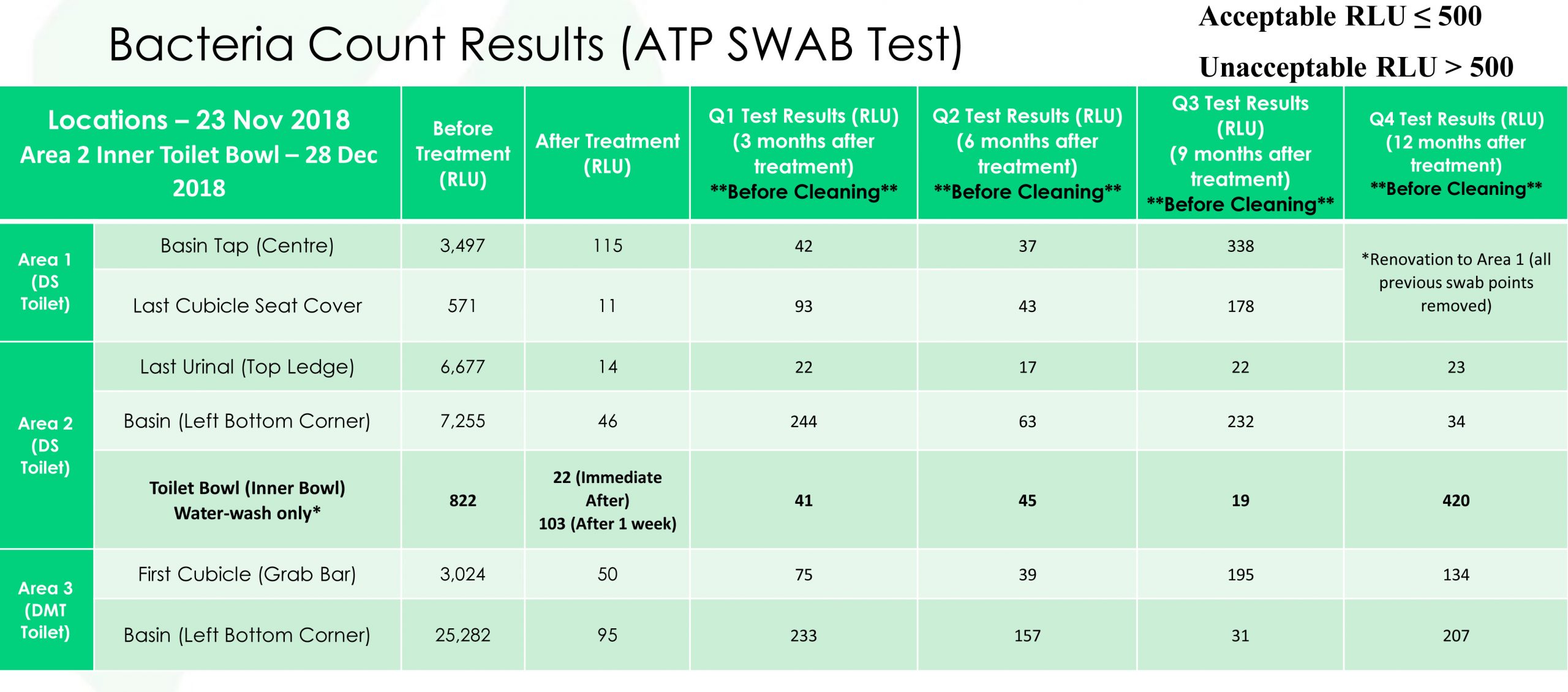 De-Novo Pte Ltd is an authorised partner for the AirTumR product. The management team is the same team that first brought AirTumR into Cambodia early 2020. For a country with most companies that are highly price-sensitive to products and services, the international schools, hotels and an internationally well-known F&B chain in Cambodia greatly welcome AirtumR in light of the covid-19 threat. It is based on the same urgent need right in home-ground Singapore and International Markets that we at De-Novo want to provide AirTumR– possibly the only Anti-viral guard that lasts!
Who/Where is AirTumR for?
AirTumR has a proven track record with Hospitals, Hotels and major commercial and residential buildings in Singapore – basically anywhere with high-touch areas (e.g., handrails, doorknobs, lift buttons, toilet flushes) and anywhere with a high volume of human traffic or usage (e.g., hotel lobbies, childcare play areas, office pantries).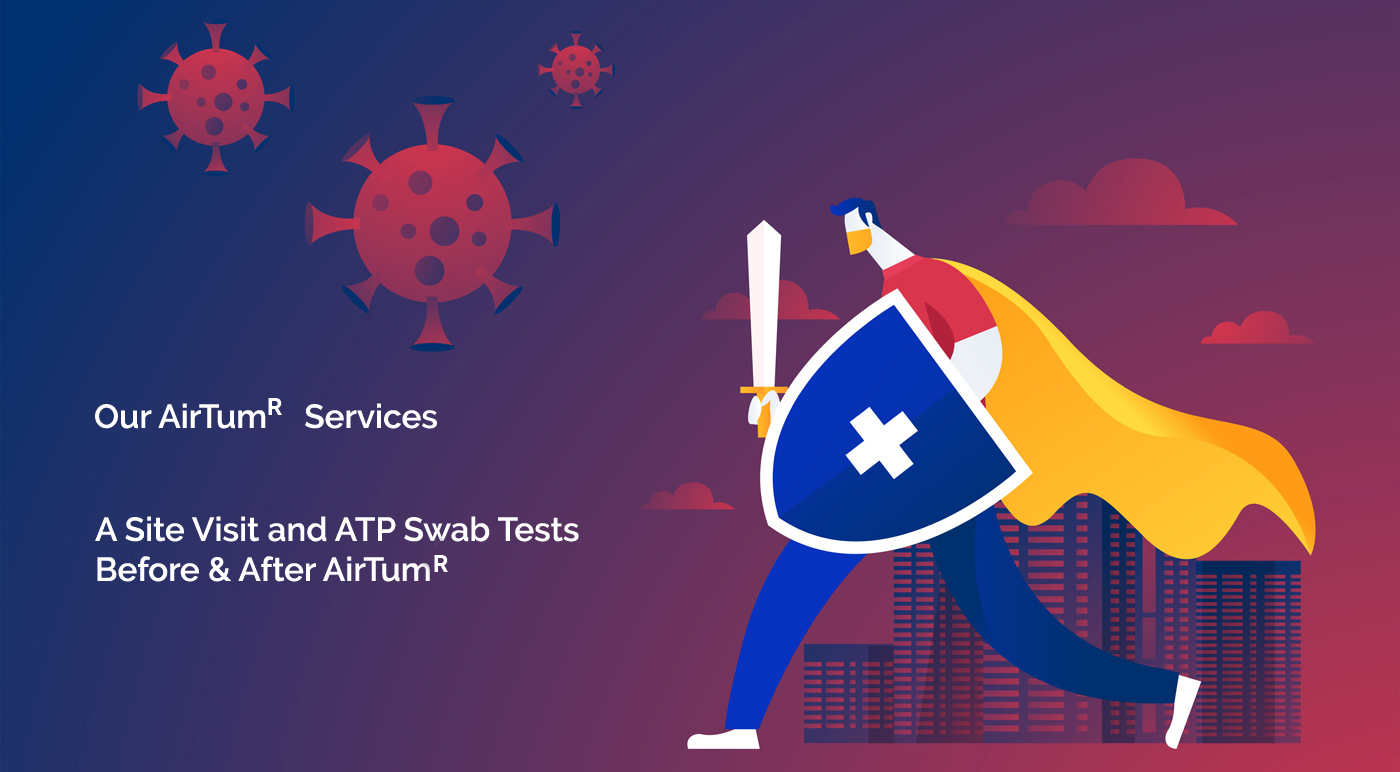 We visit…
We do a site visit to check out high-touch areas such as entrance/exit access points, doorknobs, toilet flush levers, basin taps, glass doors, stairway rails, lifts and lift buttons.
We test swab…
Using the Kikkoman Lumitester – a hygiene monitor, that offers high sensitivity detection capabilities, we do a swab test to show the RLU or virus count level, before and after an AirTumR sample application.
The proof is in our testing.
Independent laboratory testing confirms that the Kikkoman A3 technology provides detection of residues at levels much lower than other tests on the market. Using residue from many different foods, laboratory testing proved that Kikkoman A3 technology produced a test result (relative light units – RLU) an order of magnitude or higher than competitive products. In many of the foods tested, Kikkoman A3 technology showed a strong presence of residue while the competitive products produced test results below typical action levels showing that Kikkoman A3 can reduce the risks from false negative results
We recommend…
We assess and recommend which high-touch areas in your premises are best to apply AirTum
R
.
We quote.
After our recommendations, we provide a quote, listing the exact areas to be coated with AirTum
R
. Our service includes a warranty period of at least 6 months, and regularly ATP swab tests every 3 monthly.
YOU DECIDE.
And we coat…
Notable 2019-2020 AirTumR Projects
De-Novo Pte Ltd
21 Bukit Batok Crescent WCEGA Tower #29-84 Singapore 658065
Contact Us
For local enquiries,
please contact/WA
+65 9185 3085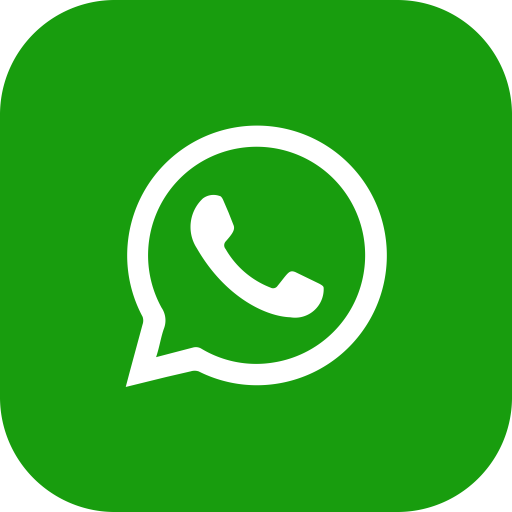 For overseas enquiries,
please contact/WA
+65 8168 2201